I was happy to visit Yamal twice this February. The locals were unanimous that the winter of 2020/2021 was by far the coldest in many years. As we were driving to the Salekhard airport for my return flight to Moscow in the morning of February 21st the car thermometer showed - 40C, and Emercom was sending SMS warnings to all cell phones in the region because of an approaching "cold wave" of -48C. The breath of real Arctic. A reminder that the course of climate change is neither linear nor simple: a cold winter in Texas or Germany does not necessarily automatically imply a warm winter in the High North.
Yet, there are many signs of prosperity here. Yamal is the only region in the Arctic with steadily growing population, many kids are around and families with three or four children are not uncommon. A huge (the largest in the Arctic) and beautiful Russian orthodox cathedral in Salekhard is close to completion, as well as an impressive new Yamal Sports Arena. You can easily burn your hands by inadvertently turning on the hot tap water in the Yuribei four-star hotel. The whole town is an open-air exhibition of ice sculptures which, colorfully lit during the long polar night, make a magical landscape.
Hydrocarbon revenues and competent leadership are two major sources of Yamal progress.
Being the largest natural gas province in the world (1/6 of the world production), Yamal - with the population of 540 thousand - produces 80% of natural gas and more than 60% of LNG in Russia. Hydrocarbon production secures 70% of the local and 10% of the Russian federal budget revenues. High salaries in Novatek, Gazprom and other companies in hydrocarbon and related sectors plus northern bonuses provided by the state push Yamal into leadership in average per capita income among all 85 regions of the Russian Federation.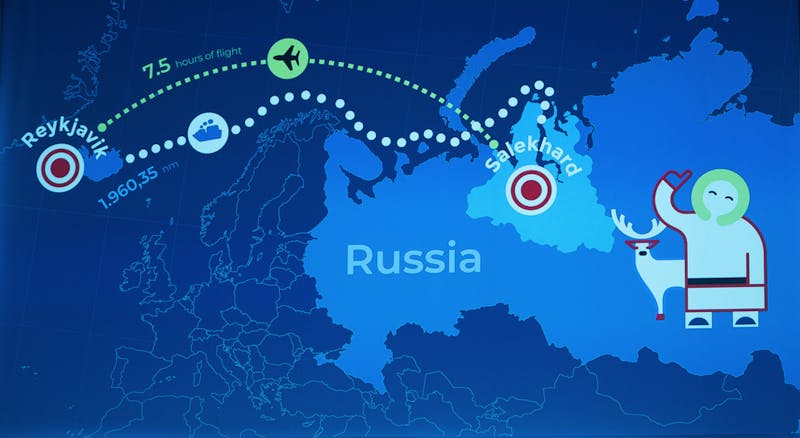 However, projections for the future are not linear. World market dynamics - such as potential decline of crude oil demand with the green energy revolution - is a major factor of Yamal's development. Another factor is gradual exhaustion of old oil and gas fields in the southern and the middle parts of Yamal which began production in the seventies. Therefore, a clear trend for the future shall be ecologically clean natural gas extraction as well as its deeper processing and refining into LNG, hydrogen, other chemical products. This will be done at the new fields in the North, in Yamal and Gydan peninsulas with the Kara Sea shelf as an additional possibility. Although this restructuring will not be free and easy, today's investments and intentions of key companies mean that prosperity of the region shall not be short-lived.
The usual dilemma of either using fly-in-fly-out schemes or creating adequate environment for permanent living as the proper approach to resource extraction in harsh climatic and geographical conditions is not foreign to Yamal leaders. In practice it's a combination of both. People work in long shifts in remote areas, such as Sabetta with its port and giant LNG plants, but all infrastructure, social and urban development is aimed at attracting people to stay. This is important as migratory fluidity in Yamal is high. Every year the population is "renewed" by 6-9%. The age groups 15 to 19 years and the retired emigrate; the 25–29 year old immigrate. Only 27% of the population was born locally.
Although the 50-thousand people regional center of Salekhard was not voted the most living- friendly place in Yamal (#1 was Tarko-Sale), it boasts of a fantastic natural history museum with a world-class collection of excavated mammoths, a well-equipped concert hall, remarkable memorial to martyrs of wars, numerous secondary schools and kindergartens, tidy lego-like apartment house quarters, big chain retail stores, broadband everywhere and high public security. The Covid-19 pandemic, although the worst is now behind, required exceptional efforts and took its toll. Local budget revenues dropped and international cooperation projects were suspended. However, local leaders are full of ideas on moving forward.
Two of the most ambitious current non-hydrocarbon projects for Yamal and the whole Russian Arctic are building a bridge over Ob river to connect Salekhard with the Russian railway system and constructing the strategic Arctic railway further to the East (parallel to the Northern Sea Route). These are extremely expensive and technically challenging tasks. The major challenge is, obviously, construction on permafrost in a changing climate. It is however a testimony of confidence in tomorrow.