Icelandair - the Official Arctic Circle Carrier
Arctic Circle is conscious of the carbon footprint of each Assembly participant traveling to Iceland. To help you in your journey, Icelandair has decided to carbon offset your Icelandair flights, free of charge.
Book your flight here!
In order to receive the carbon offsetting you will need to use this corporate code:
DD2FI2CPARCTIC
At the last step of the registration website when booking your flight, you will get an overview of your answers as well as important information. See picture: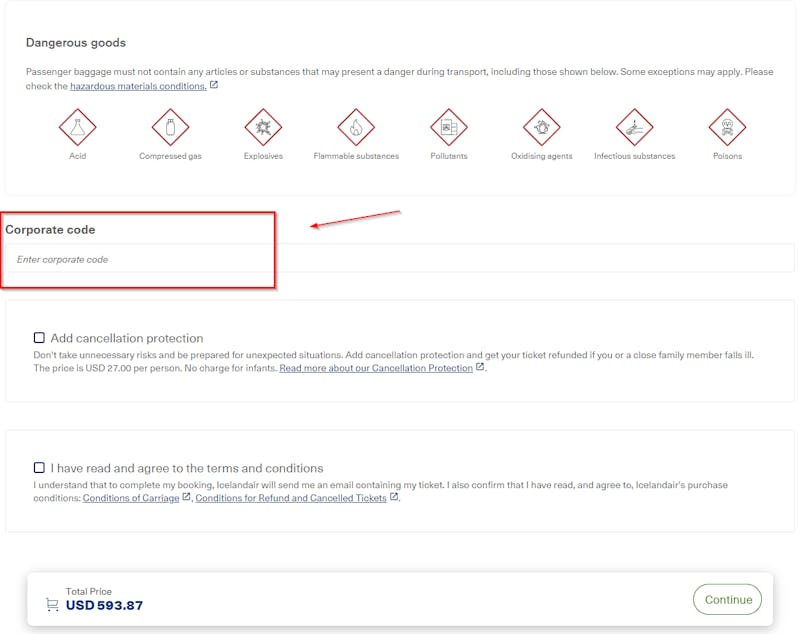 Copy the corporate code and paste it to the box highlighted in this photo.
All done!
You can go to this page to calculate how much Icelandair will contribute to offset your carbon footprint.
Icelandair is an environmentally-conscious company, committed to addressing its environmental responsibilities. The company recognises the impact that air travel has on the environment by addressing its responsibilities to reduce emissions, conserve natural resources, as well as optimise the use of sustainable energy and recyclable materials.
How does Icelandair carbon offset your flight?
Currently, all carbon offset contributions are used to cultivate forests in Iceland in co-operation with the Icelandic Carbon Fund, Kolviður. Trees absorb carbon from carbon dioxide thus reducing the amount of it in the atmosphere. Icelandair is proud to be a part of this important project and encourages their customers to participate in it.
How does Icelandair make the calculation?
Icelandair has determined the average flight emissions for each of their routes. Their carbon calculator estimates your contribution based on the length of your route and the number of passengers you list.